A new sextortion scam is underway that claims to be from the ChaosCC hacker group who states they infected the recipient's computer with a Trojan that videoed them on adult web sites.
If you received this email, it is important to know from the beginning that this is a scam and that no hacker group has infected your computer or videoed you while using adult sites.
Instead this is just a scam, commonly called sextortion, that tries to scare you into thinking that you are videoed while doing something you would like to keep private so that you will pay them an extortion demand.
In this particular case, the emails have a subject titled "Security Notice. Someone have access to your system." and states that the recipient needs to send them $700 in bitcoin or they will send a compromising video of the recipient to all of their contacts.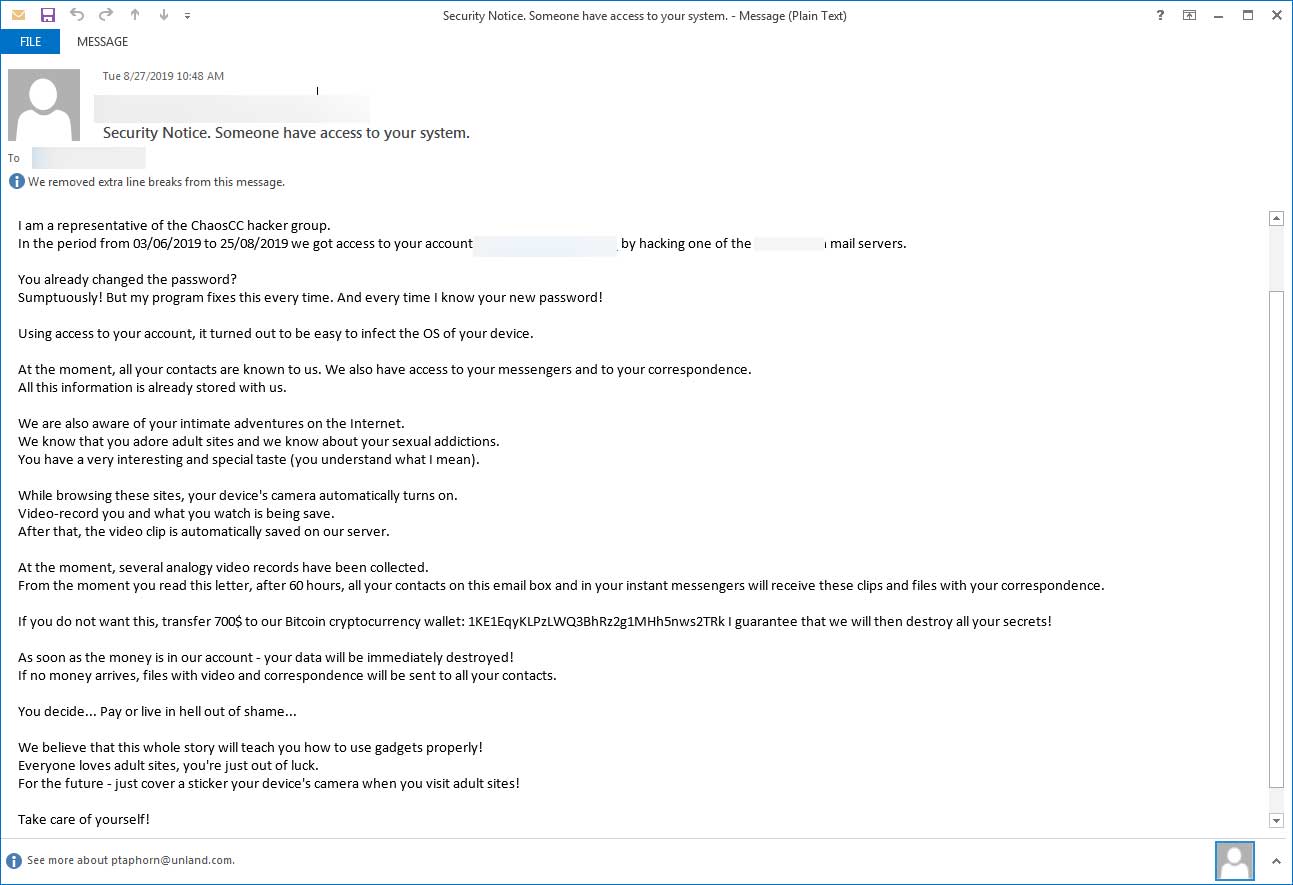 The full text of this email can be read below.
Hello!

I am a representative of the ChaosCC hacker group.
In the period from 03/06/2019 to 25/08/2019 we got access to your account xxx@xxx.com by hacking one of the xxx.com mail servers.

You already changed the password?
Sumptuously! But my program fixes this every time. And every time I know your new password!

Using access to your account, it turned out to be easy to infect the OS of your device.

At the moment, all your contacts are known to us. We also have access to your messengers and to your correspondence.
All this information is already stored with us.

We are also aware of your intimate adventures on the Internet.
We know that you adore adult sites and we know about your sexual addictions.
You have a very interesting and special taste (you understand what I mean).

While browsing these sites, your device's camera automatically turns on.
Video-record you and what you watch is being save.
After that, the video clip is automatically saved on our server.

At the moment, several analogy video records have been collected.
From the moment you read this letter, after 60 hours, all your contacts on this email box and in your instant messengers will receive these clips and files with your correspondence.

If you do not want this, transfer 700$ to our Bitcoin cryptocurrency wallet: 1KE1EqyKLPzLWQ3BhRz2g1MHh5nws2TRk I guarantee that we will then destroy all your secrets!

As soon as the money is in our account - your data will be immediately destroyed!
If no money arrives, files with video and correspondence will be sent to all your contacts.

You decide... Pay or live in hell out of shame...

We believe that this whole story will teach you how to use gadgets properly!
Everyone loves adult sites, you're just out of luck.
For the future - just cover a sticker your device's camera when you visit adult sites!

Take care of yourself!


Unfortunately, some recipients have been scared enough by these emails to send payments to the scammers. As of the time of this writing, there have been three payments to the specified bitcoin address for a total of 0.21568068 bitcoins or approximately $2,000 USD.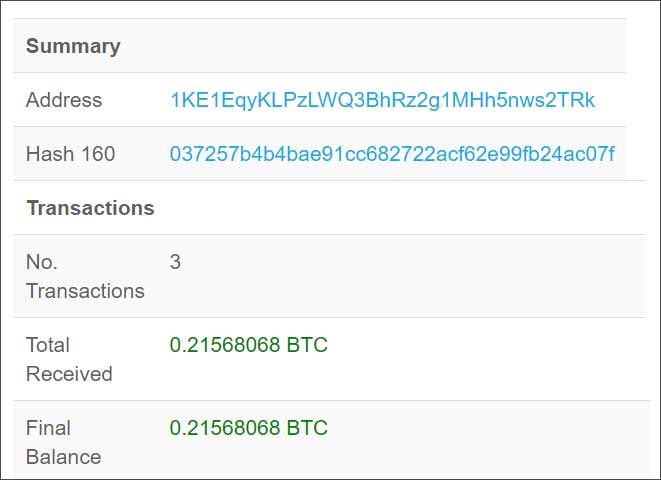 While receiving one of these emails can be anxiety provoking, always remember that these are just scams and you should not believe anything they state. Instead, just mark it as spam and delete the email.
Thx to Michael Gillespie for sharing the email!