Google developers have wanted to remove FTP support from the Chrome browser for quite some time and have been slowly whittling away at its support. In a series of proposed code changes and an "Intent to Remove", the end is near for the FTP protocol in Chrome.
In a series of bug posts created over the years, Google devs has made it clear that they would rather get rid of the FTP protocol than support it.  This has led to a slow chipping away of features until there was not much left of the FTP protocol.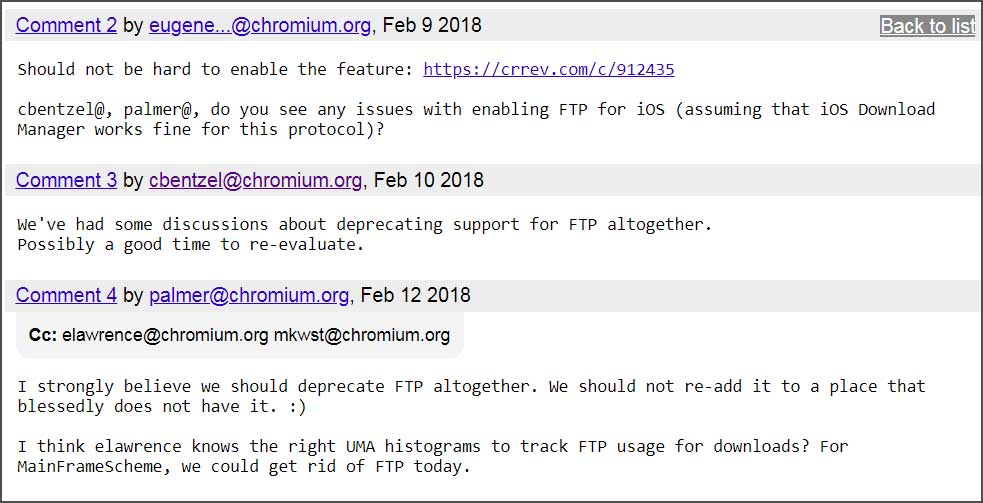 In a post made tonight to the Chromium blink-dev mailing list, Google has finally announced their "Intent to Remove" FTP from Chrome due to its lack of usage and support for transferring files over encrypted connections.
"The current FTP implementation in Google Chrome has no support for encrypted connections (FTPS), nor proxies. Usage of FTP in the browser is sufficiently low that it is no longer viable to invest in improving the existing FTP client. In addition more capable FTP clients are available on all affected platforms."
The post goes on to say it is now time to finally remove what remains of the FTP protocol from the browser.
"Remaining capabilities of Google Chrome's FTP implementation are restricted to either displaying a directory listing or downloading a resource over unencrypted connections. We would like to deprecate and remove this remaining functionality rather than maintain an insecure FTP implementation."
While the Intent to Remove was just published tonight, Google developer Justin Tervay is already hard at work implementing the changes necessary to disable FTP in Chrome and to measure the impact of this change.
For example, BleepingComputer has found two Chrome Gerrit cases opened that include code related to the removal of FTP.
One implements a new flag that configures FTP to be disabled by default.

Another Gerrit post adds new tracking to determine how many requests are affected by this change.

The disabling of FTP is currently scheduled for Chrome 80 in Stable versions, with the ultimate removal of FTP related code and resources in Chrome 82.